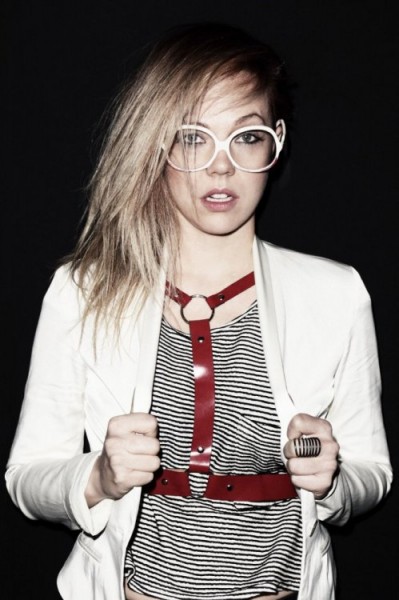 MNDR is Amanda Warner. She's an artist, singer, performer, DJ remixer, synth nut and certified gear geek.
Her music is filled with unique sound design and lyrical turns that separate her from the "Pop" music formula artist, and give you something interesting to listen to, but still dance your butt off. Check out what she has to say about her debut album, gear, and making music in a quick interview with Soundtoys.
Soundtoys: What's your musical background that brought you to this point?
MNDR: Well, I grew up on a farm with a family of musicians.  I started music lessons at age 5 and by 18 I was proficient on three instruments.. this wasn't unusual for where I grew up.  I think what tipped the music/recording scales for me was the 24/7 access to a very modest reel to reel 4-trak studio my dad built in our basement.  I spent a lot of time down there.  It was VERY 70′s with wall to wall carpeting.  Awesome.  All of that lead to drum machines, synths,…and gear gear gear….and playing in lots of bands and throwing parties.
ST: As a confessed gear head, do you have any favorite gear you used on "Feed Me Diamonds"?
MNDR: My favorite piece of outboard gear used on this album is the Eventide Omnipressor.  If you know this piece of gear than you know it helped define Brian May's classic guitar tone.  It is a really special piece of gear.  It simultaneously compresses and expands audio–very unique.  It also can absolutely get out of control and blow anyone's speakers if you don't know what you are doing.  I guess that speaks to the noise musician in me.
"My favorite plug-ins, hands down, are Soundtoys EchoBoy, FilterFreak (1 and 2), and Decapitator… no lip service… they are just awesome and are all over this album and anything I make."
ST: This album featured some cool classic gear. Can you give us some examples of what you used?
MNDR: As I mentioned, the Eventide Omnipressor which is truly one of my new favorites and introduced to me by Peter Wade at WonderSound.  We also used a lot of Oberhiem synth's, specifically the OB-8 and Xpander.  I have never played with these synths and I ended up getting totally attached to them.  We also used a Jupiter 6 as one of the staple synths on the album.  Peter Wade has some amazing UA pre-amps at WonderSound along with this amazing reverb he acquired from Bruce Swedien.  I think one of the most rare pieces of vintage gear on the album is the Castle Phaser.  You do the math…amazing.
ST: You had some high profile folks mix and master, is that correct?
MNDR: Yes and it was and is incredibly humbling to have such masters of their craft involved with this album.  Tony Maserati mixed and Dave Kutch mastered the album.  Peter Wade had worked with Tony and Dave throughout the years and had kept them in the loop with MNDR.  He reached out to see if they would be interested in lending their genius to the album, and luckily they were both fans of the music.  To be honest, it was a bit overwhelming to realize that both Tony and Dave were going to make this music breathe and bring it to the people.  I think I passed out and woke up with a finished Feed Me Diamonds.  In life you just don't expect these things.  It was really really exciting to hear their work on Feed Me Diamonds.
ST: So, did Soundtoys make it on to this album?
MNDR: Soundtoys is all over this album… come on. I mean of course it is!! Peter Wade turned me on to the Soundtoys plug-ins and we have been been trading demos for this album with Soundtoys drenched all over the tunes.
ST: Any particular spot on a song that we can hear Soundtoys in action?
MNDR: Soundtoys is literally on every synth on the album.  As Peter Wade always says about EchoBoy, "it adds that sparkle and dimension to the MNDR synth sound".  I think my overall favorite synth sound on Feed Me Diamonds is the main synth lead on Burning Hearts.  It is aggressive and very detailed…brought to life with EchoBoy.
ST: What's your favorite Soundtoys plug-in and why?
MNDR: I have to say my Soundtoys meat and potato plugin is definitely Decapitator.  I have no training in mixing, so Decapitator sort of makes everything sound right in my demos.  Without it I sound like a dick.  Also, I love EchoBoy.  It is every delay you want in your life all in one…and it sounds and acts like a true delay.  This is important for me as I cut me teeth on sound treatments via playing guitar and bass.  I want my delays to get out of control.
ST: Lots of great stuff happening fast for MNDR with the work with Mark Ronson on "Bang Bang Bang", your debut album release, opening on tour for Duran Duran, and Shiny Toy Guns. Any other stuff coming you can talk about?
MNDR: …yes. Yes there is tons of stuff, but I can't announce yet.  I can tell you that we have put together a MNDR band and are playing out now.  As you would expect, it is INCREDIBLY techy in a way everyone would love.  Taking the cues from The Chemical Brothers and Nine Inch Nails.
Here's what Tony Maserati had to say about mixing and working with MNDR:
"I had known Amanda for two years before working on her material.  We did "#1 In Heaven (Greetings)", in 2010 but didn't get to the full record till later in 2011.  And we still had plenty of tweaking to do until mastering with Dave Kutch spring 2012.  Keeping up with her amazing energy and specific style isn't easy.  We started using EchoBoy's and FilterFreak's, and over the course of two years we probably had every Soundtoys plug-in instantiated.  All the way up to Little Radiator…  Thanks for helping make MNDR sound amazing!"