Three Pros on How to Score Movies (…and How to Break In)
In collaboration with Sonic Scoop, we gathered Dan Deacon, Jason LaRocca, and Ryan Miller: three sonic producers who got their start as solo artists or members of bands, but now also work with studios to score and mix for film and games. Together they discuss the business of creating sound for the picture, differences in approach and creative process, the journey from music production to film scoring and sound design – and how to make that leap.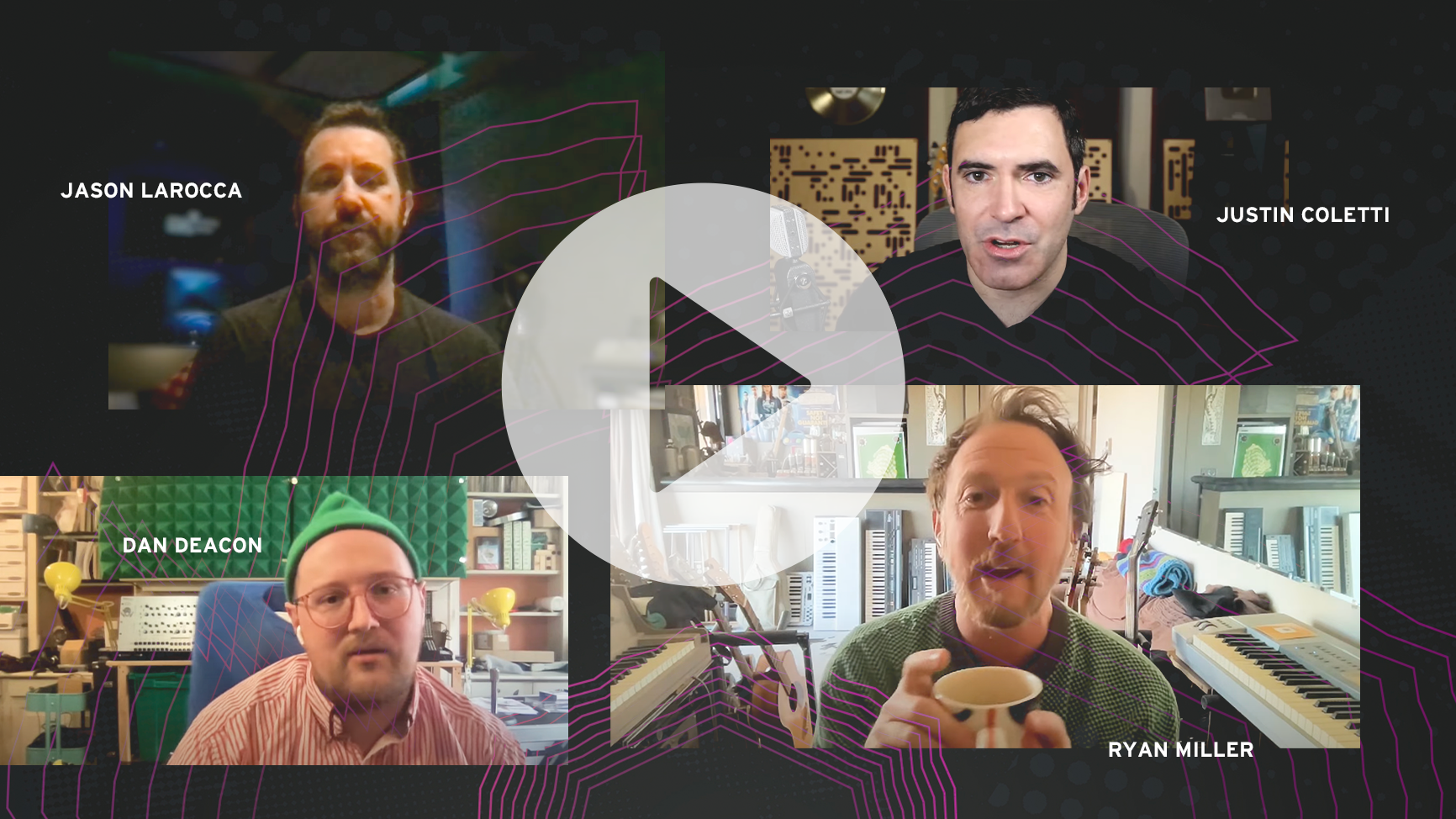 Here are a few highlights from this fascinating (and hilarious) dialogue:
"With film, I try to remember that it's a part of something else. No one goes to a movie thinking, 'I hope there are some solid cues in this; I hope the picture doesn't distract me from the beautiful music….' and so I ask myself: what does this film sound like? What are the macro sounds?"


– Dan Deacon, on the difference between his solo composition projects and film scoring

"I've been the accidental engineer. I have a much more compositional background. I came to it as a songwriter. I came as a singer and a melody person… so I'm always trying to fit themes in and twist them to fit."

– Ryan Miller, on his approach and creative process to film scoring

"With mixing for film, where I often come into the process is when I get a mass of individually recorded tracks that need to be put together – and quickly. Getting a really cool sound and a great tone quickly and easily is a must. Speed is a very important part of the process, whereas if you're making an album, you've got however long it takes. Almost too much time."

– Jason LaRocca, on the difference between mixing for film versus music production projects
Big thank yous to Justin Coletti at Sonic Scoop for leading this discussion, and to each of these inspiring artists for sharing their thoughts and experiences:
Dan Deacon, a solo electronic musician, scored his first film, Twixt (2011), with Francis Ford Coppola. Since then his original film scores include Time Trial (2017), Well Groomed (2019), Ascension (2021), and the PBS docuseries Philly D.A. (2021). Dan's latest film score is the Adam Sandler Netflix feature Hustle (2022).
Ryan Miller, leader of the band Guster, first scored the independent film Safety Not Guaranteed (2012) and has since gone on to score numerous films including In a World… (2013), How It Ends (2021). Ryan's most recent score is Something From Tiffany's (2022) for Amazon Studios.
Rocker-turned-engineer, Jason LaRocca, got his start as the singer/guitarist in the punk band The Briggs and moved into production and engineering by age 18. He has recorded and mixed music for the Oscar-winning documentary Icarus (2018), for major motion pictures including Morbius (2022) and Aquaman (2018), and for hit video games including Fortnite (2017) and God of War: Ragnarök (2022). Jason not only engineers but scores and film and TV including The Lord of the Rings: The Rings of Power (2022), Black Mirror (2011-19), and Handmade's Tale (2017-22).