Welcome to the Soundtoys Academic Discount Program. This is where you can purchase the exclusive Soundtoys 5 Academic Bundle at special pricing because you've decided to better your brain with more knowledge. Knowledge is power, but since knowledge isn't money, we've made this special package to fit your student budget.
The new Soundtoys Little Plate is included with all Soundtoys 5 Academic purchases
It will be added to your order and available for download in your Soundtoys account upon approval of your academic request.
Here's the deal:
If you can prove you're enrolled as a full-time student at a qualifying institution of higher learning (university or an approved audio production program), you can purchase this special package. Just provide all the details on the Academic order form, and someone in our office will verify it. If all is well, you'll appear to be smarter than everyone else in your school with your hot new Soundtoys 5 plug-ins.
All educational purchases are download only. Installers will be made available in your Soundtoys.com account (which will be created for you) upon approval of your request.
Here's what you'll get:
The Soundtoys Academic Bundle contains the full version of Soundtoys 5. Here's what you'll get:
Effect Rack
Little Plate
EchoBoy ( + EchoBoy Jr.)
PrimalTap (+ Little PrimalTap)
Decapitator
Little AlterBoy
FilterFreak
MicroShift (+ Little MicroShift)
Crystallizer
PanMan
Devil-Loc  Deluxe (+ Devil-Loc)
PhaseMistress
Radiator (+ Little Radiator)
Sie-Q
Tremolator
For full product details, visit the Soundtoys 5 page.
Here's what you'll need:
A letter from your school confirming your current enrollment in an eligible institution. You will need to scan or take a clear photo of this for upload as part of the ordering process.
A scanned image or photo of your current driver's license.
A valid iLok.com account.
Restrictions:
Additional proof may be requested. All Academic purchases are subject to approval by Soundtoys, and are totally up to our discretion.
Only one request per student will be approved.
These are Academic versions. They are fully functional, but non-transferable.
Upgrades to non-academic versions will be available at regular prices.
These policies are subject to change at any time.
Specs
Current Version: 5.2.0
Plug-in Formats (both 32 and 64-bit):
AAX Native, AAX AudioSuite, VST, and Audio Units (AU)
Supported Sample Rates:
Minimum: 44.1 kHz, Maximum: 192 kHz
System Requirements:
Operating systems: Mac OS X 10.8 or later; Windows 7 or later
An internet connection is required at the time of activation.
Supported Hosts:
Pro Tools (10.3.5 or later), Live, Cubase, Nuendo, Sonar, Logic, Digital Performer
Click here to view our full list of compatible host applications.
Other Requirements:
Free iLok.com account. Create a free account here. 
Soundtoys, EchoBoy, Decapitator, FilterFreak, Crystallizer, PanMan, PhaseMistress, Tremolator, Little Radiator, Radiator, Devil-Loc, Devil-Loc Deluxe, Little PrimalTap, PrimalTap, Little MicroShift, MicroShift, Little AlterBoy, Sie-Q, EchoBoy Jr., and their respective logos are all trademarks of Soundtoys, Inc.
*All other trademarks are the property of their respective owners, which are in no way associated or affiliated with Soundtoys. These trademarks are used only for historical reference or to identify products whose sounds or tone were studied in the development of Soundtoys 5.
Included In This Product
More Products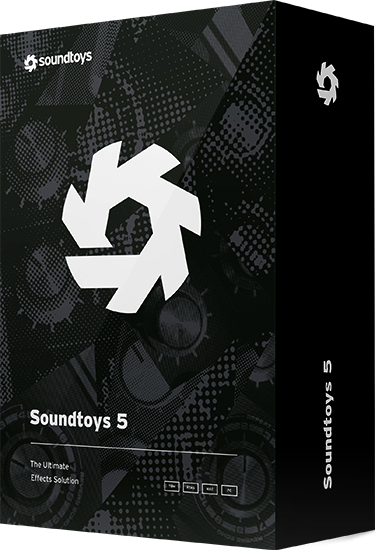 The Ultimate Effects Solution. All 20 Soundtoys plug-ins including the new Effect Rack, PrimalTap, Little AlterBoy and the brand new Sie-Q. No iLok dongle required. Learn More.
$499

The lush sound of plate reverb – with a modern twist. Learn More.
$99