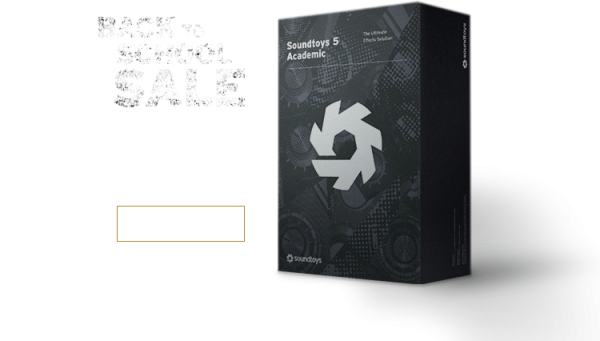 For a limited time only, we're offering students* the chance to save $50 on the Soundtoys 5 Academic bundle. Why? Knowledge is power. But since knowledge isn't money, we've made this special package to fit your student budget.
For $199 (reg. $249) you can own the full power of all 18 Soundtoys plug-ins, including the bundle-exclusive Effect Rack. That's over $2,000 worth of pro effects for less than most plug-in subscription plans.
You'll have the best gear in class. The reviews don't lie:
"There are 18 compelling reasons to buy Soundtoys 5, and none not to – the leading effects bundle reaffirms its classic status." – Music Radar
"Soundtoys 5 is a package that's a joy to use, filled with a wide range of the most genuinely gratifying effects on the market." – Resident Advisor
"The Effect Rack makes it a lot faster and easier to experiment with different combinations (and effects orders) of the Soundtoys plug-ins, and encourages even more creative uses of them." – Audio Fanzine
Sale ends September 6 – Apply Now
*FULL-TIME STUDENTS AND EDUCATORS ONLY. Prove you're enrolled as a full-time student at a qualifying institution of higher learning (accredited university or approved audio production program) and you will be eligible to purchase this special package. Provide all the details on the Academic order form, and someone in our office will verify it. Installers will be made available in your Soundtoys.com account (which will be created for you) upon approval of your request.